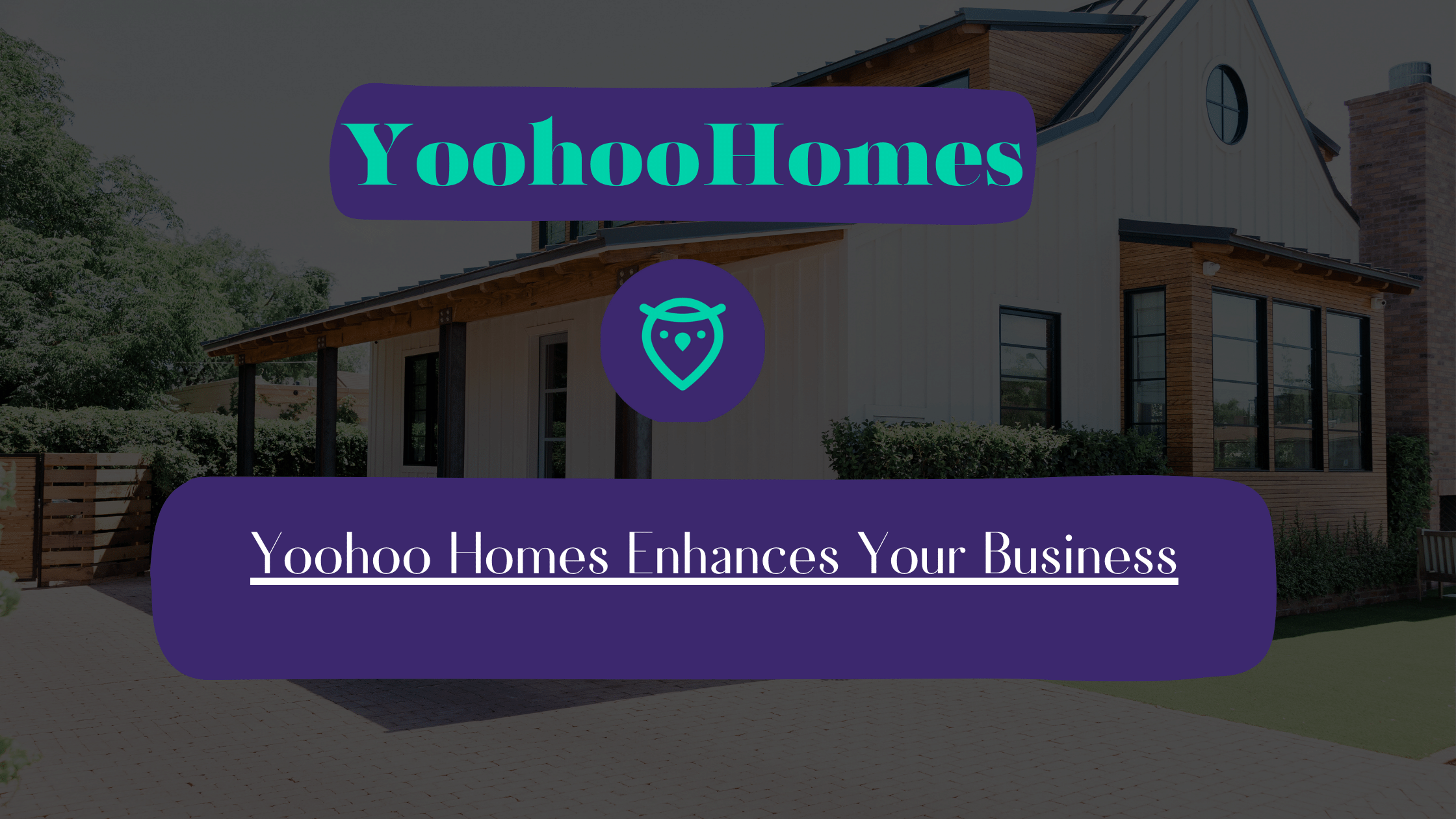 Yoohoo Homes Enhances Your Business: In today's competitive real estate market, it is essential for agents to leverage effective tools and strategies to stand out from the crowd. One such tool that has gained significant popularity is Yoohoo Homes. With its innovative features and user-friendly interface, Yoohoo Homes is revolutionizing the way real estate agents operate and helping them achieve unparalleled success. In this article, we will explore how Yoohoo Homes empowers real estate agents and enhances their business prospects.
Understanding Yoohoo Homes: A Game-Changer for Agents
Yoohoo Homes is a comprehensive real estate platform that brings together agents, homebuyers, and sellers in a seamless ecosystem. It provides a range of advanced tools and features designed to simplify the real estate process and improve agents' efficiency. With Yoohoo Homes, agents can create stunning property listings, manage leads, schedule appointments, and track performance, all in one centralized platform.
Intuitive User Interface
One of the standout features of Yoohoo Homes is its intuitive user interface. Designed with agents in mind, the platform offers a clean and easy-to-navigate interface that ensures a smooth user experience. Agents can quickly access essential features, such as property analytics, lead management, and communication tools, enabling them to stay organized and responsive to client needs.
Enhanced Property Listings
In the competitive real estate landscape, it is crucial for agents to make a strong first impression. Yoohoo Homes enables agents to create visually stunning property listings that capture the attention of potential buyers. With customizable templates, high-quality images, and detailed property descriptions, agents can showcase properties in the best possible light, effectively attracting more interested buyers.
Advanced Lead Management
Managing leads effectively is a key aspect of success in real estate. Yoohoo Homes offers advanced lead management tools that help agents organize and prioritize their leads efficiently. From automatic lead capture to lead nurturing campaigns, agents can stay on top of their prospects and convert more leads into closed deals. The platform also integrates with popular customer relationship management (CRM) systems, further enhancing lead management capabilities.
Seamless Communication
Effective communication is at the heart of every successful real estate transaction. Yoohoo Homes provides agents with a range of communication tools to connect with clients effortlessly. From instant messaging and email notifications to virtual tours and video conferences, agents can engage with buyers and sellers in real-time, ensuring prompt and personalized interactions.
Performance Tracking
Yoohoo Homes offers robust analytics and performance tracking features, enabling agents to measure their success and identify areas for improvement. Agents can access detailed reports on key metrics like website traffic, lead conversions, and listing performance, helping them make data-driven decisions and optimize their strategies for better outcomes.
Collaborative Networking
Real estate is a highly collaborative industry, and building a strong network is essential for long-term success. Yoohoo Homes provides agents with a platform to connect and collaborate with other professionals in the field. From sharing listings and insights to referring clients and establishing partnerships, agents can leverage the power of networking to expand their reach and gain new business opportunities.
Mobile Accessibility
In today's fast-paced world, real estate agents need the flexibility to work from anywhere. Yoohoo Homes offers a mobile app that allows agents to stay connected and productive on the go. Whether they're attending property viewings, meeting clients, or traveling, agents can access their listings, respond to inquiries, and manage their business efficiently from their smartphones or tablets.
Security and Privacy:
Data security is a critical concern for real estate professionals. Yoohoo Homes prioritizes the security and privacy of agents' data, implementing robust measures to safeguard sensitive information. From secure encryption to regular data backups, agents can trust that their valuable data is protected against unauthorized access or loss.
Conclusion
In conclusion, Yoohoo Homes is a powerful platform that empowers real estate agents and enhances their business success. With its intuitive interface, enhanced property listings, advanced lead management tools, seamless communication features, performance tracking capabilities, collaborative networking options, mobile accessibility, and robust data security, Yoohoo Homes equip agents with the necessary tools to outshine their competition. By embracing this innovative solution, real estate agents can streamline their operations, boost their productivity, and achieve remarkable results in today's dynamic market. So why wait? Harness the power of Yoohoo Homes and elevate your real estate business to new heights.